July 6, 2021
Day in the life of… Sales Manager Jim Leach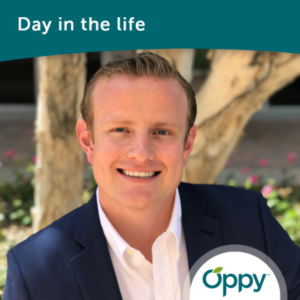 Growing up on the coast of NorCal then SoCal, Jim made the move to the Lone Star State last month for his next Oppy adventure. He is now sales manager for the Houston, Texas office as South-Central produce legend Jeff Walker retired. Receiving his undergrad from Purdue University in Indiana, Jim completed his MBA at Pepperdine University in his home state this April. Prior to being hired at Oppy in 2016, he worked for BASF, the largest chemical producer in the world, in their U.S. crop segment in North Carolina and Arizona. He also interned with Taylor Farms in Tennessee and PepsiCo in Illinois. Clearly, Jim is no stranger to moving with his current escapade quenching his wanderlust.
Beginning his career at Oppy as business development representative, Jim quickly moved to a role in sales which has prepared him well for his managerial promotion. A typical work day starts early as Jim continues to develop his bond with Oppy's valued customer base in the south. He continues assisting his team and working closely with Business Development Representative David Reyes (who you can read more about here) to review strategic promotions and how to best support their customers. Glad his school days are behind him, Jim is enjoying his evenings again after attending night classes multiple days a week leading up to graduation.
Like many of its current and former representatives, Jim's favorite project he has been a part of at Oppy is the Champions of Change. The program, unique to Oppy, was created by Chairman, CEO and Managing Partner John Anderson in 2003 to bridge the gap between employees and executives and give everyone at Oppy the opportunity to shape company strategy. Representatives from varying offices and departments are brought together to evaluate feedback from the annual employee engagement survey and their group's facilitated discussions to present recommendations to the executive group for the strategic plan. "It has been an incredibly rewarding experience and one that I view as a critical driver of our amazing culture here at Oppy," said Jim.
The youngest of five siblings, Jim has eight nieces and nephews, increasing by one more at the end of the year. He's a graduate of the Fresh Produce and Floral Council Apprentice Program and has several close friends in the industry, to which he said, "Anytime we get together it is evident we all love what we do."
Going into the future, Jim hopes to do Jeff proud by growing sales for the Houston office, building relationships among his team and the industry, and sharing the diverse global produce Oppy offers with the world.