Growing better all the time
We provide a resource that people depend on every day for their lives and livelihoods. And we take that responsibility seriously. That's why we put time and energy into nurturing strong relationships with our partners. It's why the people, operations and businesses we work with continue to grow.
Oppy's team of experts can help you navigate the complex world of produce, from seed to shelf. Thanks to our unrivalled expertise in global supply chain management, from growing to packing, transportation, sales and marketing—Oppy can get the right fruit into the right hands in just the right way, going above and beyond to ensure that your produce is always looked after with care.
What we do
Grower partners
When you grow with Oppy, you benefit from a sophisticated supply chain that includes logistics, quality-assurance and, when necessary, capital investment to help you meet the global demand for exceptional fresh produce.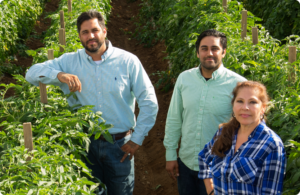 Retail partners
Our retail partnerships are built on trust. We harvest the finest fruits and vegetables in the world, communicate transparently, and take every safety measure to ensure our produce reaches store shelves at the peak of freshness.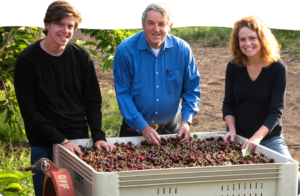 Logistics partners
Oppy Transport, our in-house logistics company, encompasses a network of carriers who deliver climate-controlled shipments from our pack sheds and cold storage facilities to retail distribution centers and grocery stores. We also offer third-party logistics services.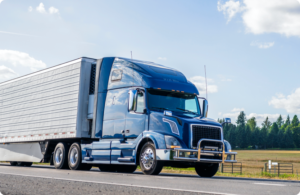 Learn more
Fresh retrospective
For over 160 years, Oppy has been a leader in fresh produce.
Here are some of the highlights.
1858

Oppenheimer Bros. & Co. opens in Victoria, BC to provide supplies to thousands of fortune seekers drawn by the Fraser Canyon Gold Rush.

1887

The Oppenheimers build Vancouver BC's first brick building—which is also the city's first wholesale provisions warehouse.

1888 - 1891

David Oppenheimer serves as the second Mayor of Vancouver, and is credited with establishing much of the city's infrastructure.

1891

Canada's first shipment of Japanese mandarin oranges arrive—beginning an enduring seasonal tradition and partnership.

1897

Oppenheimer Bros. outfit Klondike Gold Rush prospectors—selling everything from mittens to candles and canned goods.

1911

David Oppenheimer is honored with a statue in Vancouver's Stanley Park.

1930

Oppenheimer begins partnership with BC Tree Fruits, selling apples and stone fruit.

1950

Greenhouse vegetables from Vancouver Island begin to be sold. A decade later, tomatoes sell for 19¢ per pound.

1956

We introduce Granny Smith apples to North America followed years later by other New Zealand favorites.

1960

We're one of the first Chilean produce importers—bringing grapes and stone fruit to store shelves during North American winter months.

1963

Canadians get their first taste of New Zealand kiwifruit courtesy of Oppenheimer, marketed as "Chinese Gooseberries."

1973-1989

We introduce Royal Gala, Braeburn and Fuji apples to North America—soon they will become mainstream favorites!

1985

Our U.S. division, David Oppenheimer & Company, opens in Seattle, Washington.

1992

David Oppenheimer Transport drives East Coast expansion beginning in Wilmington, Delaware.

1996

We introduce Pacific Rose™ apples—named for their New Zealand roots and rosy complexion.

1996

We unveil one of the industry's most sophisticated information management systems for growers and customers alike.

2000

Together with our partner ZESPRI International Ltd., we give North America its first taste of gold kiwifruit.

2001

The National Post recognizes Oppenheimer as one of Canada's "50 Best Managed Companies" for the first time.

2001

In the wake of 9/11, we implement food security protocols that set an industry-wide standard.

2002

We premier square watermelon, bringing a 50-count shipment from Japan to Vancouver where they retail at over $100 each.

2003

As part of a worldwide launch, we bring the first JAZZ™ apples to North America with our partner ENZA.

2003

Ocean Spray picks us to market fresh cranberries in North America.

2003

Through our partnership with Divemex, Oppenheimer becomes a year-round greenhouse grower—selling sweet bell peppers 52 weeks a year.

2004

We announce our expect the world from us brand promise to the world, signaling our commitment to exceptional service and global reach.

2004

The Oppenheimer Group receives The Produce News' Fresh Health Award at the Canadian Produce Marketing Association convention in Calgary.

2004

Oppenheimer pioneers Fair Trade Certified produce marketing in North America with pineapples from Costa Rica.

2006

Oppenheimer participates in the produce industry's first Radio Frequency Identification (RFID) and Reduced Space Symbology (RSS) trials.

2006

We launch a new premium organic greenhouse vegetable line with Origin Organic Farms of Delta, B.C.

2007

Oppenheimer receives 2007 Produce Marketing Association Innovation Award for North America's first fully compostable pack.

2010

We introduce New-Zealand-grown Envy™ apples to North America.

2010

We bring domestic cherries to market through a partnership with Orchard View Farms of The Dalles, Oregon.

2011

We become a year-round avocado grower, marketer and distributor.

2011

Together with Divemex we bring North America's first Fair Trade Certified sweet bell peppers to market.

2012

We are officially rebranded as Oppy.

2012

Our tomato category grows with the addition of vine-ripes from Oceanside Pole to the mix.

2013

We achieve our goal of reducing greenhouse gas emissions by 5 percent between 2009 and 2012.

2013

Our first large-scale California strawberry campaign begins.

2013

We join Total Produce—one of the world's largest produce marketing companies—based in Dundalk, Ireland.

2016

We enter a joint venture with the Hasegawa family, third-generation California strawberry growers, to profoundly strengthen our berry category.

2017

Oppy becomes 50% owner of Delica North America which significantly boosts our export capacity.

2017

Oceanside Pole Brussels sprouts become a popular new Oppy item.

2017

We launch the Ocean Spray® Family-Farmer Owned™ berry brand.

2017

We are recognized as one of Canada's Most Admired Corporate Cultures for the first time—an honor which continues today.

2019

Oppy launches the Perpetual Vegetable Co. greenhouse brand.

2020

We bring the first Haskap berries to market in Vancouver.

2020

We add grapes to our Ocean Spray line, which also includes berries and citrus.

2020

Oppy introduces plastic-free, tree-free renewable packaging made from compostable and recyclable bagasse fiber—an industry first.

2020

We are selected among Canada's Top Employers for the first time, and BC's Top Employers for the third time.

2021

We are named one of Canada's Best Managed companies for the 20th consecutive year, and honored in the program's Platinum Club continuously since 2008.
Grow with us
For more than 160 years, Oppy has grown and delivered the best of the world's harvest each and every day. This now includes over 100 varieties from more than 25 countries.
How we grow
Relationships take root
We're here whenever you need us. Don't hesitate to reach out and let us know what we can do to help your business, or career, continue to grow.
Contact us