March 22, 2019
Day in the life… of Category Manager, Rodrigo Lopez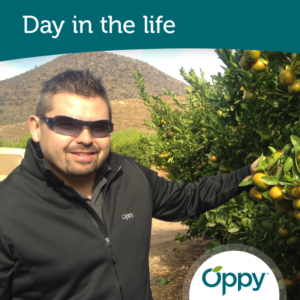 After graduating from Monterrey Institute of Technology and Higher Education in Mexico, with a bachelor's degree in marketing and commerce Rodrigo went on to work in marketing and sales for Colgate-Palmolive, The Coca-Cola Company and Mattel, Inc. and later freelanced for other multinational companies. With a thirst for travelling and desire to start somewhere new, he moved to Vancouver, BC with his wife Michelle in 2010 and joined Oppy in 2011 as a category analyst.
Rodrigo quickly moved through the Oppy ranks to grower relations as category coordinator and now category manager for citrus and avocados. "I consider myself really lucky to have a role that requires me to be in constant communication with people throughout the company as well as many customers and growers around the world," he humbly said. "In a category capacity, you learn something new every day because you're so close to each program from start to finish. This includes planning volumes and negotiating with growers, working with finance and operations to ensure we're prepared to execute, engaging with the sales team to secure the right homes for our products, having a balanced distribution across North America and keeping returns in line with the expectations of our partners," Rodrigo said as he took us full circle.
What Rodrigo most enjoys about his work is building a program from scratch by working with his team and gaining a positive outcome. "But sometimes Mother Nature does not work with us the way we had planned and that's when we need to get creative," he said, indicating he thrives on a challenge. "There is a lot of talent at Oppy. I am fortunate to know a lot of our staff closely, learn from them and am grateful for their willingness to help when I need them."
Sharing a beautiful two-year-old son with Michelle, Rodrigo and his family love to be outside, hike, travel and dance! His favorite places to be besides Canada and Mexico are Vietnam, Italy and India.
"Looking into the future I hope to be part of the Oppy family for many years to come and support the avocado and citrus categories to grow to new heights," he concluded.