July 23, 2018
Day in the life… of Oppy Greenhouse Category Manager & BDR, Craig Winford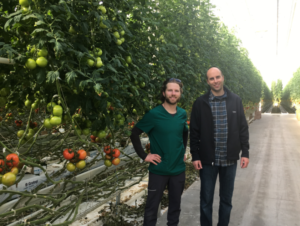 Born into the farming industry, Craig grew up in the Lower Mainland of BC where his parents ran a hobby farm. Continuing in fresh foods and grocery, he stocked shelves at Safeway through high school and sold Frito Lay chips in college. After spending 12 years in the Okanagan and acquiring his bachelor's degree in business administration from UBC, he moved back to his roots where he was hired at Oppy in 2006, thus beginning his journey into produce.
"It's an exciting line of work to say the least," he says. A typical day for Craig involves talking to growers, sales people and customers to establish pricing and distribution for our greenhouse items. Seeing a transition towards program and forward pricing over his years in the industry, he believes this has put a further emphasis on the need for analysis, forecasting and intuition.
Craig is most proud of seeing Fair Trade certification become not only a reality for our growers, but a success story. And while Oppy has its daily challenges, "it's what keeps us coming back for more—and that's what I like," Craig says.
The excitement continues at home with his energetic twins who love to learn, play and eat plenty of fruit. Riding bikes and camping are high on the list of favorite activities for Craig and his family. Looking forward, he hopes for more innovation in product lines to capture more out of the market.