February 17, 2017
Day in the life… of Junior Programmer, Armando Saksono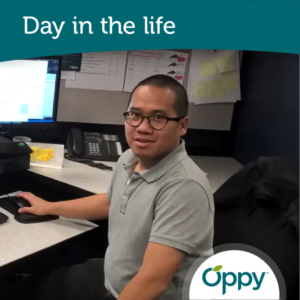 Armando grew up in Indonesia and came to Canada in 2000 where he graduated with a Bachelor of Computer Information Systems from the University of the Fraser Valley. He worked as a software developer for Whitewater West which designs and engineers all of the waterslides for Disney cruises around the world. His work in custom software, reporting and engineering databases led him to be hired at Oppy in May 2016.
Armando has had a fun and challenging journey at Oppy so far. One of his favorite projects is working with Optimo, Oppy's proprietary system that supports virtually every aspect of operations. He hopes to become an expert of the program soon.
If you know Armando, you know he always has a drawer stocked with food at his desk as he is a routine snacker. He has a wonderful wife and two girls ages three and six. They love to go swimming, cycling and eat at their favorite restaurants together. One of his hobbies is to tinker on his car and recently built an electric bicycle he rides to work from time to time. Being the thrill-seeker he is, he hopes to go skydiving and take a race car for a spin one day.