March 20, 2020
Day in the life of…Director of Import Grapes and Stone Fruit Bill Poulos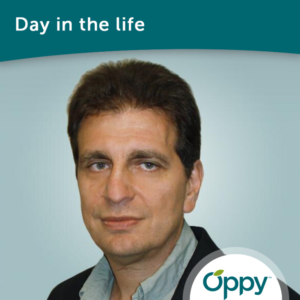 Originally from West Pennsylvania and now working at Oppy's Newark office, Bill Poulos graduated with a business administration degree in accounting and a minor in marketing after attending Pennsylvania State University and Slippery Rock University of Pennsylvania.
Oppy was Bill's first ever job and the only one he has ever had, aside from a few odd summer jobs when he was still a student. Bill is in fact Oppy's longest tenured U.S. employee, first joining the team in September 1985.  Over these 35 years, Bill has grown with Oppy, first starting as a sales trainee and moving through several titles and roles to his current position.
While Bill's storied career has seen many notable achievements, his most cherished accomplishments include seeing the Newark office bloom from around $3 million in sales in its first year, to eclipsing an amazing $150 million in 2019.
For Bill, the duality of his job provides a constantly fresh perspective. In his role as a sales manager, which remains fairly consistent throughout the year, Bill works closely with the sales team to identify opportunities during their weekly call. As import grape director, his work is more seasonal, getting exceptionally busy between November and May. A typical week during the busy season could easily encompass seven to eight conference calls with growers, as well as meetings with internal category teams and retailers. This is in addition to an annual trip to South America and many meetings and dinners with partners in Newark throughout the year.  Looking ahead, Bill hopes to continue to grow the import grape and stone fruit categories over the next five to seven years, working closely with his younger colleagues to ensure Oppy's continued success well into the future.
Married with a 15-year-old daughter, Bill enjoys travelling and spending time with his family.
Although he never expected to still be working with Oppy when he first started almost four decades ago, Bill has found a lot to love at Oppy including, "First and foremost, the people; the diversity of products as well as the nuances of the categories, and the stability and opportunities that Oppy continues to provide."