September 7, 2021
Day in the life of… Grower Accountant Leslie Lowery-Utsler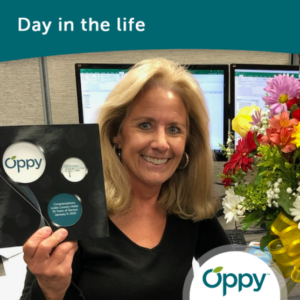 Adopted from San Francisco, Leslie has lived in Visalia, CA her entire life, besides attending Iowa State University for a bachelor's of business administration. Returning back to her home town, Leslie began her produce journey at Nash De Camp, a company that primarily grew grapes in California and Chile, but closed its doors in the early 2000s. Leslie met Oppy's current National Inventory Support Manager Amy Bianchi at the gym in 1988, and when an inventory role became available the following year at Oppy, Amy she suggested she apply.
Subsequently, Leslie has dipped her toes into a range of positions over the years, finally landing in grower accounting where she feels she fits best. "Every day is different and has its challenges," Leslie said, "I am a real people-person and enjoy being able to work with those internally and externally. I also enjoy that you never know what will come up in produce, but we have such a tight-knit team in the Visalia office, we always get through things together." In January 2022, Leslie will celebrate 33 years here.
One of Leslie's favorite accomplishments at Oppy was being part of the Champions of Change. She was actually one of 15 handpicked employees to initiate the strategic endeavor in 2003. Today, nearly 20 years later, it is an instrumental feature in Oppy's culture and continued success. To learn more, read the third paragraph of Jim Leach's day in the life article here.
A self-proclaimed "gym rat," Leslie struggled when her local fitness facilities closed due to the COVID-19 pandemic. But she made do by setting up a home gym on her patio complete with a TV for streaming workout classes. Leslie also had her best bud Sierra the cat to keep her company through the past year. Rescuing her from being a stray in her neighborhood when she was just a kitten, to then falling ill to feline aids at three and crossing the rainbow bridge just as restrictions lifted before summer. A fond memory prior to 2020 was driving her RV to the Auto Club Speedway with her beloved husband, who passed a few years ago. They were avid Nascar fans, holding tickets for over 20 years, camping right in the infield each year.
"Though I have a way to go till retirement, I look forward to the upcoming challenges of the business. And I hope to pass on some of my knowledge to up-and-coming Oppy professionals," Leslie said.