February 15, 2019
Day in the life… of Organics Category Manager, Rachel Mehdi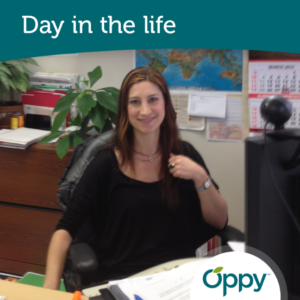 A Pacific Northwest native, Rachel graduated from the University of Washington with a Bachelor of Arts concentrating in sales, marketing and entrepreneurship. After her studies she set off on an epic trip around the world for a year landing in countries such as Fiji, Thailand, Egypt, Spain, Switzerland and Germany just to name a few.
Working as a server through school and when she came back from her travels, Rachel had now VP of Categories David Nelley and VP of Marketing James Milne sit in her section in 2005. Having a fire for horticulture and keeping her eye open for opportunities after coming home, Rachel reminisced, "My interest was piqued when I heard them talking about the produce market." The duo shared what they did for a living and mentioned there might be a role opening up in Seattle soon. They gave Rachel their cards, got her in touch with now Director of Apples and Pears Roger Aguirre of the Seattle office and the rest is history! She was hired as sales assistant that year, quickly moved up in the department and eventually the organics category.
"Never a dull moment in sales," Rachel said when asked what a regular day at Oppy is like for her. "Multi-tasking, problem solving, overcoming countless challenges, being knowledgeable of several categories and markets to ensure we maximize the return to our grower and keeping our retailers happy," she went on. Rachel is especially proud of helping develop Oppy's organics category from the ground up, "Organics are a passion of mine and I feel very lucky to have been able to specialize in them."
A mom to her 4-year-old daughter and 14-year-old stepdaughter, Rachel loves to spend time in her garden, hike, bike and of course, travel any chance she gets. Passionate about being outdoors as much as possible, when the weather keeps her inside she enjoys indulging in plenty of good food and wine.
"This industry is incredibly dynamic and there isn't a day that goes by where I don't learn something new," Rachel acknowledged, "I love working for a company where putting fresh fruits and vegetables into the hands of people is at the core of what we do and appreciate the lifelong friendships I've made along the way."