April 16, 2018
Day in the life… of Senior Sales Representative, Donald Slot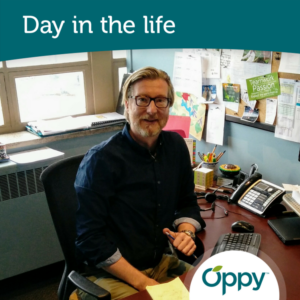 Donald traveled the world before landing in the Toronto Oppy office four years ago. Born and raised in the Netherlands, he received his Bachelor of Science degree in agricultural business from Larenstein International Agriculture College—a school that would ready impressionable students by sending them to overseas Dutch colonies to manage plantations and trade. While spending part of his studies in Botswana, Donald caught the travel bug and worked abroad in Canada, Indonesia, Zambia and Zimbabwe. Returning to Toronto in 2000, Donald has lived downtown ever since.
Working in tea then in meat and eventually in fruit, Donald was approached by Oppy to take the lead on the tight-knit office—and he accepted gladly. His day starts with trading and calling various customers, and admittedly putting out a fire or two, and ends with strategic planning and administrative matters. Always looking ahead to the next deal, Donald has enjoyed seeing the takeoff of our avocado growers program and building their business in Eastern Canada.
Travel continues to be a theme in Donald's life as he is often planning trips with his girlfriend Liz and children Phillipa and Willem. Whether hiking, kayaking, travelling to family cottages or new destinations, they always come home with ideas for their next trip. Donald and Liz also enjoy spending time in the city with good coffee, great wine and even better scotch, and of course, sharing it with friends.
Donald looks forward to seeing the Toronto office grow and one day become a true anchor for the Eastern Canadian Oppy business. "It's the people that create the conditions for a rewarding life at Oppy. Many have become good friends and I think it's those bonds that see you through the challenges and add to your professional and personal growth," he adds.