October 17, 2017
Day in the life… of Annette Samudio, Operations Assistant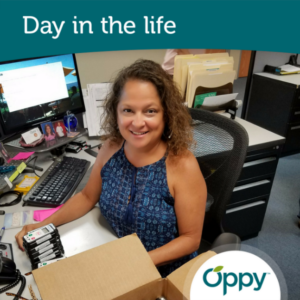 Annette was born, raised and currently lives in San Pedro, California. She attended El Camino College and Los Angeles Harbor College before dipping her toes in a range of positions at Vons, Albertsons, Olive Garden and Nordstrom. 18 years ago, Annette was hired at Oppy.
A regular work day for Annette is tracking all West Coast pineapple vessels and containers, and doing the same for mangoes when they're in season. She coordinates with truckers and communicates with the facilities that receive the containers. Every day she can be found downloading temperature recordings for all West Coast facilities and covering all administrative duties for the Carson office.
One of Annette's favorite projects while working at Oppy was the monthly Feedback Friday. The office would be sent new packaging or a new variety of produce to try – Annette would set up the presentation table and collect feedback to report to the team.
A proud mom to her two sons, Corey and Casey, Annette is also very close with her niece Sierra and nephew Troy. She loves sushi, the Dodgers and practicing Tai Chi. Annette's aunt recently bought a home in Maui and is looking forward to buying an outrigger paddle and snorkel gear to enjoy all the Hawaiian islands have to offer!
Annette says she is honored to be part of the Oppy team and enjoys the connection she shares with each person. "We've been through a lot together and I consider myself lucky for it," she adds.