February 7, 2022
Day in the life of… Corporate Accountant Eric Lo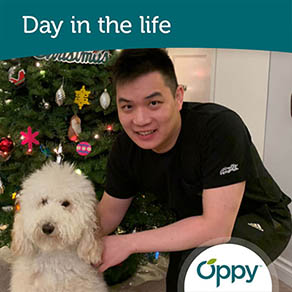 Born and raised in Hong Kong, China, Eric came to Canada in 2006 to attend the British Columbia Institute of Technology (BCIT), graduating with a bachelor's degree in accounting. He began his career in Vancouver as a bookkeeper, gaining experience over multiple industries including travel, education and real estate, along with working at an agency that helps international students study accounting.
Eric joined Oppy in 2018 as an intermediate accountant, transitioning to his current role as a corporate accountant just last year. In a typical day Eric focuses on month-end and year-end goals and achievements. His favorite contribution to Oppy was leading the launch of its automated expense management system, "It provided me with an opportunity to meet employees that I do not get to interact with every day."
Like many Oppy people, Eric appreciates the company culture, echoing, "My teammates are friendly and helpful people. We act like a family, rather than just coworkers, which makes the work very rewarding."
For fun, Eric enjoys fishing, snowboarding, playing badminton and table tennis. When it's safe to do so, he looks forward to visiting his parents, brother and two nieces in Hong Kong.
Looking forward, Eric hopes to "continue learning from senior leadership to contribute more to the company."