February 22, 2019
Envy™ apples take over "The Big Apple"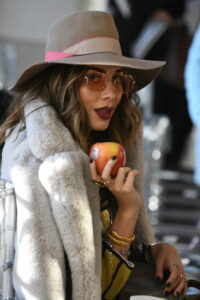 Big hair, big celebrities, big taste, all in the big city. For the second year in a row the Oppy team attended New York Fashion Week which this time, created even more excitement through a special partnership with Christian Siriano, the innovative young designer of the hit Bravo TV show Project Runway. Senior BDR TJ Wilson and Marketing Communications Specialist Kelsey Van Lissum were joined by T&G Marketing Consultant Kelsey Defebaugh to ensure the show ran smoothly, got our retailers in on the buzz and that it was all captured on social media to re-live over and over again.
An Envy™ apple tasting bar was featured backstage, apples were placed in goody bags for guests of the show and signature Envy™ cocktails were enjoyed at the after party. Our photographer Nir Arieli caught all the fashion-forward moments with Envy™ apple at the forefront of his lens as celebrities attending their dear friend's show sauntered in such as Debra Messing, Christina Ricci, Danielle Brooks, Mariska Hargitay, Christina Hendricks, Melissa Gorga, Coco Rocha, Simon Huck and more. Ending the presentation with a show-stopping head-to-toe crystal covered dress, supermodel Ashley Graham made headlines everywhere as she glistened in the beams coming in from the sunset.
Thank you to everyone who helped make this event happen and for ensuring Envy™ apples is a timeless trend that will never go out of fashion.
Go to Envy™ apples NYFW highlights on Instagram to see it all.