March 16, 2017
Oppy employee honored among women leaders of the Calgary Latino community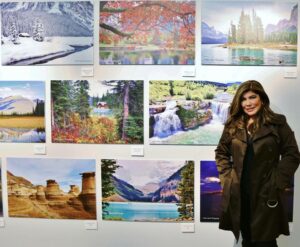 On International Women's Day, Hispano City Calgary named five important Latino women in the Calgary community who personify qualities that make them pillars of the Hispanic community.
Part-time Oppy repacker, Ana Martin del Campo, won first place in the Albertan Latin award contest in 2016 and is proud to be recognized for this designation now. Ana is a renowned Mexican artist, known for her work with Expressions Spanish Language and Mexican Arts and the "Casa México Foundation in Alberta." She has participated in exhibitions organized by the University of Calgary, where she has shown photographs of her homeland and promoted the cultures and traditions of her country.
"I welcome this recognition for its meaning," Ana said. "The integration of women into working life, on equal terms, requires the complicity of all the labor market. I would like that recognition made to me personally to be extended to all the millions of women who dedicate their time, effort and, ultimately, this life, to work to support their family. Without all of them, society and the future of the world would not be the same. I thank my colleagues, supervisors, and directors from Oppy, the support they have always given me, making me feel part of this family, and encouraging me in my projects. I am very happy to belong the best team in the world!"
The Oppy team and Ana's husband, fellow Oppy employee Richard Patassini, are so very proud. Thank you Ana for distinguishing yourself as a leader in a community we call home.