August 15, 2018
Day in the life… of Oppy Manufacturing Assistant, Evelyn Perez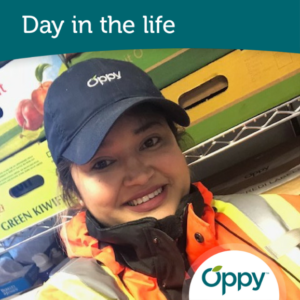 Born in Newark, New Jersey and raised in Villalba, Puerto Rico, Evelyn studied biology at the Interamerican University of Puerto Rico. Moving back to the U.S. in 2012, she was hired at Manfredi Cold Storage, Oppy's repacking and distribution center, as a shipping and receiving clerk and promoted to customer service representative. Officially hired at Oppy in 2017 as manufacturing assistant, Evelyn handles all of the packaging at the Wilmington location and assists with work orders.
Evelyn attributes learning so much and navigating through her role at Oppy in a short period of time to her manager Michelina Fonseca, regional manufacturing manager. She hopes to continue expanding her knowledge and explore new ways she can continue to grow within the company.
Engaged and a proud mommy to her two handsome boys, Emmet and Liam, Evelyn loves spending time with her family and watching baseball. Feeling a close connection at work as well, "the people at Oppy make you feel like family whether you are in the same office or not and everyone has each other's back," she concludes.