October 23, 2020
Day in The Life of…Quality Controller Vincent Pagliaro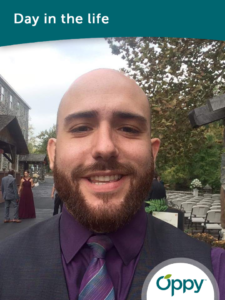 Born and raised in New Castle, Delaware, Vincent joined Oppy in August 2011 at only 21 years old. Having spent the majority of the past nine years working as a quality controller, Vincent attributes the success of Manfredi's quality control to the very talented team who genuinely care and are passionate about their work, leading them to function effectively and efficiently.
Vincent spends his morning and early afternoon attending various inspection and re-inspection sites, a multilayered process that is the definition of teamwork. Once inspection is complete, Vincent focuses on sending out the necessary photos and reports to help growers, sales, and inventory teams stay informed and up-to-date. Other tasks include gathering and sending samples, staging fruit for visitors, recording temperatures and cleaning equipment. As a member of the safety committee, Vincent also conducts routine checks around the facility to ensure a safe working environment.
Vincent is hopeful for a bright future, and having recently traveled to Ireland and Italy, he looks forward to the next opportunity to explore the world. He is thankful that at Oppy, he considers his team as his extended family, and considers his job as more than just a job. On the weekends, you can find Vincent at home with his two cats and giant dog, or playing rugby.
Vincent is a man of many talents. As an ordained minister, and a licensed and insured drone pilot, Vincent encourages anyone looking for either service to get in touch!