April 19, 2018
Chilly visit leads to warm friendship with F&A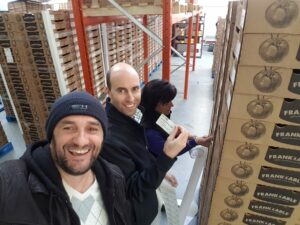 Earlier this month, Amy Bianchi, Goran Adzic and Craig Winford braved the frigid climes of southeastern Alberta to help get the Frank & Able Tomato on-the-vine season off to a terrific start. While temperatures hovered in the single digits Fahrenheit, our team built on the warm relationship that is growing between Oppy and the innovative young greenhouse producers, brothers Dirk and Keith Vis, and their brother-in-law Devin Jaspers.
With Goran installing and troubleshooting computer equipment, Amy putting the finishing touches on Optimo training, and Craig getting an in-depth look at all aspects of the operation, the team at Sunshine Greenhouses is now tightly meshed with the Oppy supply chain.
"There was an amazing family feel to the growing operation," Amy said, noting that they bumped into Dirk and Keith's dad, Andy–the company founder–doing electrical work at the greenhouse. While retired, he remains active in the business, contributing where he can support the younger generaion. "The three guys talked proudly of their growing families, Dirk is 36 years old with four kids under age 7 and another on the way! The other guys have little ones as well. They all seem very close, and you can sense a strong respect between them all."
While tight-knit, the Frank & Able guys were welcoming, eager to learn, and generous with their time and knowledge.
"Frank & Able is the perfect name. You couldn't describe the team of Keith, Dirk and Devin any better," said Goran of the brand name and positioning developed by the Oppy marketing team late last year. "Their commitment to quality and to doing things right was evident everywhere in their greenhouse. It was immaculately clean, with everything in good working order– and of course the tomatoes are terrific."
And Goran would know. He received a special delivery of Frank & Able TOVs direct from the greenhouse upon his return to Vancouver. "They are juicy and very enjoyable. Just delicious!"
Craig notes that while the team is young, their reputation for running a quality greenhouse is already well established. "I was impressed to learn that Keith, who spends most of his time in the greenhouse growing, managed to entice one of the most sought-after tomato consultants in the world to work with him. Experienced consultants often get to roam the world with all expenses paid, working alongside the biggest of growers. The Vis brothers have such an honest passion for growing for quality over quantity that it captivated the consultant, who now works for Keith and visits regularly."
The Sunshine team will join us to meet the trade at our CPMA booth next week. Stay tuned for more about Frank & Able in the next episode of What's Fresh at Oppy, which will be filmed on location at the show!