September 25, 2018
Day in the life… of Oppy Treasury & Financial Reporting Manager, Agatha Tymke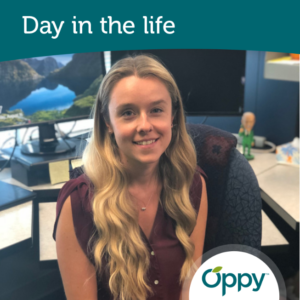 Born in Johannesburg, South Africa, Agatha lived in Poland for two years before immigrating to Canada when she was 6 years old. She attended Capilano University before transferring to the Sauder School of Business at UBC where she graduated with a Bachelor of Commerce and officially became a chartered accountant through the CA School of Business in 2015.
While attending UBC, Agatha was accepted into its co-op program and landed a position within the KPMG audit practice in Vancouver. In 2012 she transferred to their Calgary office and moved back to Vancouver two years later for a position at Ernst & Young. In 2015 she began her career at Oppy in the newly created treasury supervisor position, Agatha quickly evolved to take on the role of category financial analyst for kiwi, pineapples and mangoes and then financial reporting specialist. This year Agatha was promoted to her current role of treasury and financial reporting manager.
Agatha says she enjoys being a part of Oppy because of the variety of work she is able to experience. She values continuous learning and being given opportunities to try new things both in her role in financial reporting and through Oppy programs such as the Champions of Change and Oppy U. "Every day is different. No two weeks, months or seasons are the same. Our work is constantly evolving and we are consistently working on new tasks and projects," she says.
Being avid travelers, Agatha and her husband are always eager to hop on a plane and experience something new. They are currently in the process of checking off their bucket list of destinations which included a trip to South America in 2017 and a trip planned to South Africa in 2019.
Agatha looks forward to creating synergies in her reporting and provide valuable knowledge to help drive business decisions and support the executive team in achieving the company's strategic goals. As she grows in her career at Oppy she hopes to continue developing her skills while giving back to the organization through mentorship opportunities.