October 20, 2016
New Zealand dignitaries acknowledge our long-standing partnership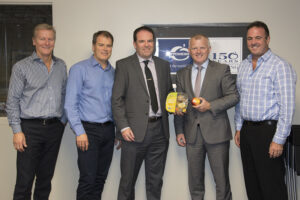 Did you know that Oppy has marketed New Zealand products since the 1950s?
These days that country's apples, pears and kiwifruit mean something special to many of us, perhaps most of all to a passionate group of local Kiwis who have worked for Oppy for about two decades apiece. James Milne, Steve Woodyear-Smith and David Nelley, shown here with New Zealand's Consul General and Trade Commissioner Nick Fleming and High Commissioner to Canada Daniel Mellsop during their recent visit to Oppy HQ, began their careers with Zespri or Enza way back when. Along with the efforts of the whole Oppy team, their strong ties with growers and family back home, blended with expertise gained through many years in the market, underpins the authentic stewardship of New Zealand's products we're known for at Oppy.
The dignitaries dropped by to acknowledge our contributions to the success of New Zealand produce in North America—and discuss future opportunities to grow together.