December 20, 2019
Oppy serves meals and smiles through holidays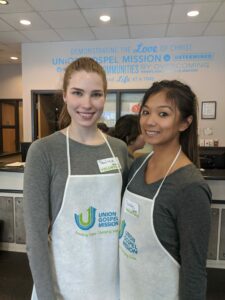 Instead of spending a well-deserved day off for Thanksgiving Monday relaxing back in October, Category Financial Analyst & Specialist Sarah Paclaon and Packaging Coordinator Paulina Derry passed the afternoon serving meals to those in need at Union Gospel Mission (UGM) in downtown Vancouver. Both having a fulfilling volunteer experience earlier this year with UGM at their New Westminster location, the pair knew they wanted to participate again.
With Paulina in the kitchen preparing plates and Sarah serving them, Paulina shared, "A few stopped by the kitchen after their meal to say thank you—it was nice to see how appreciative they were for their meal." Sarah echoed, "Everyone from the volunteers, leaders and locals were cheerful and grateful!"
"Oppy is very proud of the many employees who step up and give their time to the community. Thank you to Sarah and Paulina for volunteering their time to provide a hot meal to those in need," Vice President of Talent & Culture Doug Galloway said—noting that Oppy also donated funding towards 250 meals that day.
Additionally, at the beginning of December two crews of Oppy people helped serve 203 plates to members of the community in need at the New Westminster UGM location for breakfast over a couple days. Thank you to Doug, Sales Manager for Eastern Canada Colbert Rahal, Accounts Payable Coordinator Leah Ann Christiaens, Financial Analyst Esra Ragab, Facilities Coordinator Russell Watts, Talent Engagement Advisor Helen Imber, Talent Coordinator Jessica Phillips, Transportation Coordinator Jessica Lopez, Grower Accountant Yash Grover and Executive Assistant Dee Homsavath for giving their time over the holidays.
"It's a great way to spend your time and help out the community. You will not regret it," Paulina summed up.