January 3, 2023
Day in the life of… Senior Sales Representative Danielle O'Leary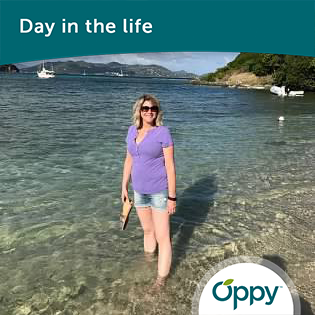 Born and raised in White Haven, Pennsylvania, Danielle currently resides in Houston, Texas. She graduated from the University of Phoenix and began her career as a general manager in the hospitality industry before joining Oppy in 2002 as a business development representative. Danielle is a part of the Oppy boomerang club, having left Oppy in 2007 to lead the marketing department at an architectural firm before rejoining the produce industry at another company in Houston. About ten years later she was rehired at Oppy as a senior sales representative.
"No two days are the same!" exclaims Danielle, who in a typical day she books orders and ads, looks for trucks and fruit, and prioritizes urgent requests from category leaders. One of her favorite projects she worked on at Oppy was a Zespri promotion that involved branded cars, "New Zealand growers visited in the middle of summer and we drove all over Texas promoting gold kiwifruit," she explained. Danielle is a part of The Houston Fresh Fruit and Vegetable Association and has served in every board position over the years — including president. "We are heavily involved with addressing food insecurity and helping the community," which remains at the heart of Danielle's participation.
Danielle believes that, "Having the opportunity to sell and be involved with so many items is what sets Oppy apart. There is always something different going on and something new coming around the corner. The team in Houston is like family to me and the people working throughout Oppy are the best in the industry — a wonderful group of very talented people."
For fun, Danielle enjoys spending time outdoors with her husband Tom and their three dogs. They also like traveling together and have a trip planned to the British Virgin Islands in early 2023. Her favorite fruits are Ataulfo mangoes, strawberries and pineapple.
Going into the future, Danielle hopes to join a category team, "While growing the Houston sales numbers sky high!"