December 19, 2018
Chicago donates festive feasts to furry friends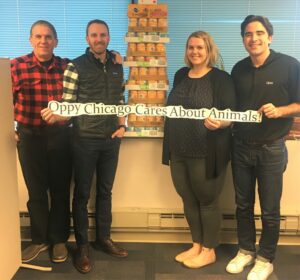 The animal lovers in our Chicago office made the holidays a little brighter for local four-legged friends with donations of pet food to two animal shelters last weekend. Inspired by the recent experience of adopting shelter dog Alfie, a terrier-boxer mix, and supported by Senior Sales Representative Dan Wickland, pet parent to a pup named Peanut and Cookie the cat, Sales Assistant Annie Gibson rallied the team and together they raised donations to purchase nearly 200 meals. The food was provided to the Anti Cruelty Society, a downtown Chicago shelter, and Felines and Canines, a shelter in the neighborhood where Annie grew up.
"In the process of adopting Alfie, I recognized how animal shelters truly need support," Annie said. As a member of Pet Supplies Plus, a local pet product discounter, Annie was able to stretch the donated dollars and also contributed a few coupons of her own. "We chose two shelters because we wanted to make the donation significant to each. The response has been really great; I think our gifts were very welcome and unexpected."
Two paws up to Annie and the Chicago office for organizing this thoughtful and creative community outreach!