November 25, 2019
Day in the life… of Senior Business Development Manager of Transport Chase Wrightson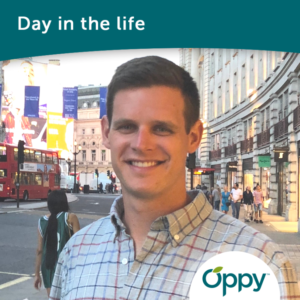 Currently residing just outside the birthplace of the U.S., Chase is Philly-born and raised besides attending Clemson University in South Carolina when he received his bachelor's degree in agricultural economics. Working through various roles in account management, sourcing and category management, he earned his supply chain solutions experience with Robinson Fresh over eight years before joining Oppy in October 2017.
There is no regular work day for Chase, "No two days are ever the same and they're always fast-paced. Working with the talented Oppy team to launch the domestic 3PL business has been a major project I'm proud to be a part of. I have learned so much in the process," he said. Chase hopes to continue learning, growing, teaching and being a valuable member of Oppy.
Chase recently bought a fixer upper home with his fiancé Emily, who doubles as his dentist. They are looking forward to adopting a Labrador puppy just before Christmas and getting married next summer.
When asked why he likes working at Oppy, Chase said, "The people. Oppy is a true team environment where everyone is genuinely interested in working together for a common goal. Every company claims their people are what makes their company great—but at Oppy, it's the honest truth."