April 6, 2021
Team Oppy rides high in the Freggie Fresh Ride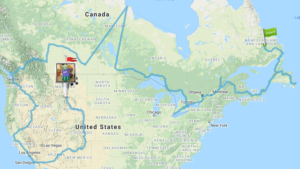 As a proud advocate for CPMA (The Canadian Produce Marketing Association) and its initiatives, when team Oppy got wind that the Freggie Fresh Ride was going digital, it was a breezy choice to opt in! Freggie's mission to show kids what is possible with a healthy lifestyle is more important than ever as the world navigates COVID-19. Inviting all ages and all physical activities to take part was a fun way for the industry and their families to get involved. Props to CPMA.
It was an exciting March watching Freggie's avatar venture across Canada in record time, down the West Coast and up through the Rockies before completing his journey on March 30 with a collective 18,187 kilometers — 4,056 of those contributed by team Oppy.
Enjoy these photos of Oppy teammates skiing, biking, hiking, snowshoeing and absolutely rocking it! Well done, team.