November 16, 2016
Day in the life… of Oppy Manufacturing Manager, Eddie Colon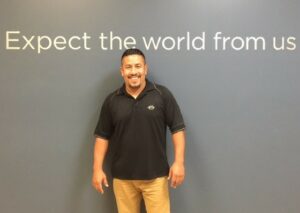 Eddie Colon grew up in Los Angeles, California where he attended El Camino College and received a certificate from UC Davis in Fruit Ripening and Ethylene Management in 2008. Between that time Eddie worked at FedEx, as a forklift driver and in sales for a fruit market company – this experience led him to be hired at Oppy.
Eddie will be celebrating 12 years at Oppy in December 2016, starting off in QC and within three years becoming a QC supervisor and later being promoted to manufacturing manager. During that time Eddie attended Oppy's 80 hour OppyU program.
During the busy packing season, Eddie oversees all LA-area repack to ensure operations run smoothly while also reviewing and approving invoices. Some of his favorite projects he has worked on are the Safeway 'Ready to Eat' program for kiwi, the 'Fresh n Easy' program and a trip to Eco-Farms to help with Optimo integration for the Total Produce operating company.
When Eddie isn't looking after operations he is at home with his four beautiful kids. He ran a martial arts school in his youth and was part of the Puerto Rican Taekwondo Olympic team in 1996. With 11 black belts in his family, Eddie continues to teach Taekwondo today and runs an adult baseball team since 1998.
Eddie feels lucky to have a mentor like Fernando Caudillo and would like to follow his footsteps as kiwifruit category manager. Eddie says he is "at Oppy for the long run" and he is "extremely proud to be part of an awesome company that allows growth and encourages their employees to strive for excellence."