September 22, 2020
Day in the Life of… Supply Chain Coordinator Paulina Derry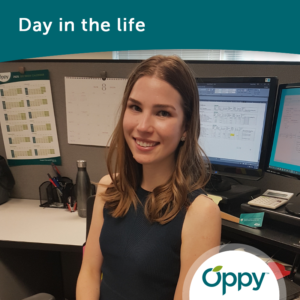 Born and raised in North Vancouver, British Columbia, Paulina studied at Simon Fraser University and graduated with a Bachelor of Business Administration in operations management and a certificate in business analytics and decision making. During her studies, she spent one semester studying abroad in Guadalajara, Mexico at Tecnológico de Monterrey – a positive experience that ultimately led her to pursue a career in supply chain and operations.
Paulina joined Oppy in January 2017 as a packing coordinator and quickly became a supply chain coordinator by the end of 2019. No two days are alike for Paulina and her priorities include leading weekly cross departmental production meetings, creating costing models, and analyzing inventory and sales forecasts to determine packaging purchases. She enjoys looking for opportunities to streamline and make processes more efficient. Among her favorite tasks is finding ways to improve costing models and program pricing functions.
There are many reasons why Paulina enjoys working at Oppy, but she highlights the positive work culture, as well as the opportunity to collaborate with various departments and colleagues from around the world.
Looking forward, Paulina hopes to continue growing her career and knowledge at Oppy, which won't be a hard task as she feels there is always something new to learn. If Paulina isn't traveling the world, you will most likely find her enjoying the great outdoors, cooking, or baking.