September 13, 2016
Day in the life… of Oppy Sales Assistant, Michael Schaefer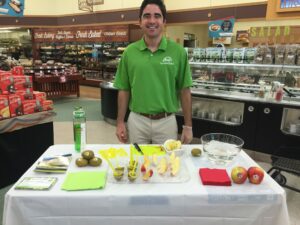 Originally from Springfield, Ill. Michael graduated in May 2016 from the University of Illinois majoring in agri-business. With an internship handling daily farm operations, planting, weeding and preparing crops for market at Harvest & Blooms in summer 2015, this summer has been much different for him. Michael started with Oppy a week after he graduated and was ready to get to work.
Last month Sales Manager Dan Sebetic received a request from Jewel-Osco to demo products for the re-grand opening of their Indiana stores. Oppy was one of the few select produce vendors to be asked and Dan knew Michael was the one for the job.
It was a real team effort as Michael sampled at one store and Dan at another. Always up for a challenge, Michael deserves kudos for jumping in with both feet in his first few months at Oppy.
Stay tuned for the next Oppy person to be featured on 'Day in the life'!