June 7, 2017
Refreshed JAZZ brand to highlight Tour de Fresh cycling event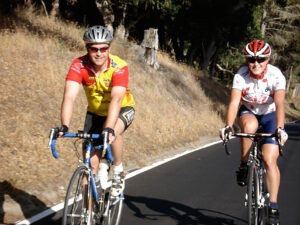 Next month, Chris Ford and Karin Gardner will pedal nearly 200 miles of hilly terrain of California's Central Coast in the Tour de Fresh, a three-day industry cycling event that raises funds to place salad bars in schools. While their focus is on helping students develop healthy eating habits with access to more fresh fruits and vegetables, Chris and Karin also plan to draw awareness to the refreshed JAZZ™ apple look through branded gear, social media posts, and an "Always Refreshing" nutrition stop on the course. JAZZ™ apples are a premier sponsor of this year's Tour de Fresh.
Did you know that JAZZ™ apples and cycling have a decade-long history here in North America? When the fruit was new, JAZZ™ sponsored a semi-pro women's cycling squad, made up of promising young New Zealand and North American athletes. Between training hard and earning recognition for the brand on race podiums, the JAZZ™ Apple Cycling Team sampled the fruit at key retail outlets, including Whole Foods Markets, where Chris was a senior buyer at the time.
Chris connected with JAZZ™ cyclists a decade ago; he's pictured here with Malindi Mclean in 2007, who went on to ride for the New Zealand Olympic Cycling team.
While Chris has ridden the Tour de Fresh several times—including 2014 when Garland Perkins also participated, promoting JAZZ™ apples and Raley's— this will be Karin's first tour. Lately, Karin has spent her recent weekends scouring the long flat prairies of North Dakota for hills to practice on.
Over the years, Oppy has donated several salad bars to schools in California. If you would like to help Chris and Karin do the same, feel free to drop a donation on their fundraising pages here and here. Oppy will match donations up to $50 for Oppy employees, just use the Charitable Donation Matching Gift form found in the HR section of the intranet. Donations are tax deductible. Thank you.