June 6, 2019
Cycle for Sight gains newbies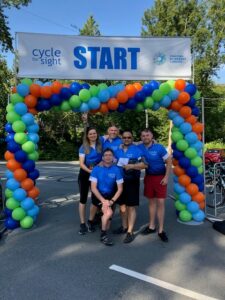 Participating in the West Coast Cycle for Sight for the sixth time, team Oppy picked up four new riders this year. Our original cyclist, Doug Grant, who holds deep passion for the cause as his wife Sherry has macular degeneration affecting her central vision, couldn't make it this year because he was out of town. Jason Shelefontiuk knew he wanted to continue his second ride in honor of his dad who lost his vision eight years ago and decided to reach out to the Vancouver office to build a bigger team, "I went to everyone that I know rode a bike and basically harassed them," Jason laughed.
Joining for their first ride was Johanna Clayton, Mark Courtenay, David Cheung and Aaron Jones who, with Jason, helped raise over $4,500 of the nearly $170,000 total.
When asked how this year went Jason said, "My second ride was about the same as last year. Hills are always tough, but the ride is spectacular and goes by fast. I have no shame in saying that I walked the hills!" Sponsoring the event again, Oppy donated watermelons, tomatoes, citrus and more. "The Oppy booth was full of people grabbing snacks! It was a really good outing for us," Jason said proudly.
The team topped off the ride with enjoying a nice lunch together as they hung out cheering on the riders as they came through the finish line.
Pictured (L to R):
Johanna Clayton, senior corporate accountant
Mark Courtenay, financial planning & analysis manager
Jason Shelefontiuk, operations and inventory control coordinator
David Cheung, FRUP manager
Aaron Jones, quality assurance coordinator