October 23, 2019
Day in the life… of Business Development Representative Ambar Rodriguez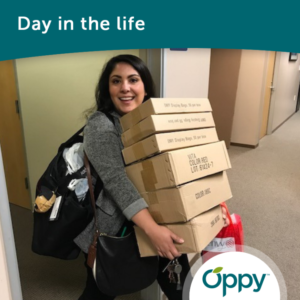 A workaholic since she was 16, Southern California born and raised resident Ambar held jobs at "SoCal" favorites like Disneyland. A huge animal lover, she worked at an animal health distributor, at a veterinary hospital and at a doggy daycare while she went to Cal Poly Pomona as a pre-vet student.
While in university she participated in Produce Marketing Association's Center for Growing Talent Career Pathways Program. "After that I was absolutely captivated by the produce industry," Ambar said. She met now Senior Sales Representative Kori Martin who held Ambar's position at the time when she hosted one of their panel sessions. "Kori introduced me to Oppy and I decided to seek an opportunity because of how impressed I was with her," Ambar then decided her true passion was agriculture and switched her major.
Ambar graduated a couple years later with a bachelor's degree in food marketing and agribusiness management with an emphasis in animal health science. She worked at a foodservice distributor for a year before nabbing the right opportunity at Oppy as BDR for the U.S. Southwest region.
Celebrating her four-year anniversary this month, Ambar usually starts each day with the same cup of coffee in one hand and mouse clicking through emails in the other. From there, her day can take many turns from planning and executing promotional deals, updating the Oppy team on her accounts, coordinating materials, spearheading meetings, coordinating and attending events and much more.
Ambar is the first generation in her family to be born in the U.S. as both sides are from San Luis Potosi, Mexico. Raised by a single and very strong mom with her brother, Ambar has 6-year-old twin nephews who she claims are "the coolest little dudes ever!" She spends her free time exploring with her boyfriend and his twin 15-year-olds and 11-year-old. They recently went to Puerto Vallarta, Mexico and ziplined through the Sierra Madre Mountains which Ambar highly recommends.
Ambar's favorite part of working at Oppy is being able to experience all sides of the produce world, especially, "having hand-on experiences with growers then relaying all that back to the customer in a way to better relate to our products."