April 5, 2021
Day in the life of… Category Coordinator Alyssa Jordan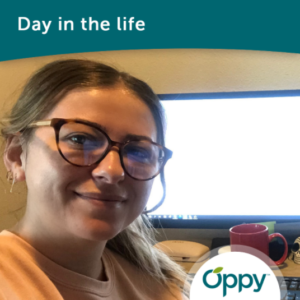 An avid traveler originally from Orcutt, California, Alyssa graduated with a bachelor's degree in hospitality management from University of Hawaiʻi at Mānoa. After graduation, Alyssa spent a year exploring Australia and Asia and now calls San Luis Obispo, California home. Prior to joining Oppy in December 2019, Alyssa gained work experience at a health and wellness technology company where she was responsible for navigating its software, onboarding new team members and responding to client requests.
As Oppy's berry category coordinator, a typical day starts with checking in with the team to confirm that daily orders are on track. Alyssa works closely with cross-departmental colleagues to ensure that payments are on schedule and alongside the inventory team, and performs the necessary checks to ensure that programs are precise.
Alyssa recently had the opportunity to collaborate with the grape category team on the Peruvian blueberry deal. Grateful for the opportunity to work with different categories and for the unconditional support she's received since joining Oppy, Alyssa is eager to take on new projects and expand her knowledge in the berry category.
Living with her three dogs Jordy and Bodie along with Blue who she recently rescued, Alyssa is often found at the beach, hiking or wine tasting — three activities she claims you can do all in one day when in San Luis Obispo!
"I've met some of the nicest, most passionate people at Oppy. Still being relatively new to my job it's been a relief to feel comfortable asking questions or for guidance. I've felt so welcome from the very beginning and that's something I've always wanted in a workplace," Alyssa beamed.