November 22, 2021
Day in the life of… Senior Category Manager Lino Ratto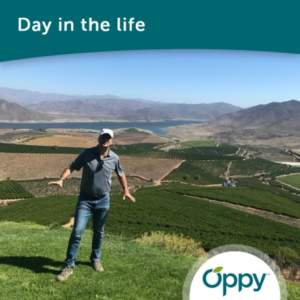 Born and raised in Chile, Lino lives in its capital city Santiago where he received two graduate degrees in planning and strategic control, and business management — and is now an agronomist engineer who specializes in growing and agribusiness. Beginning his career at Oppy in quality control, Lino has managed categories from apples, grapes, kiwi and citrus, evolving into the grower relations side of the business as well. Moving to a grape producer and exporter for a couple years after 11 years with Oppy, Lino returned in 2013 and is glad to be back with his team.
A typical day for Lino is all about supporting Oppy's trusted partners. He coordinates and plans the categories in relation to volume and current programs. Lino appreciates the flexibility he has in his role to best support Oppy's partners in their current needs and fostering those relationships.
Lino has been married to his wife Carolina for 20 years and have two beautiful children, Martina and Enzo, who all travel together once a year for a couple weeks. He likes playing bocce, tennis and "Padel" which is a mix between tennis and squash. Lino is the vice president of the Italian Cultural Institute of Santiago where he plays his favorite sports, enjoys company among friends and more.
Going into the future, Lino hopes to continue growing in his role as a vital resource for Oppy's partners and sourcing a dynamic mix of produce. "Between my work, family and hobbies, I am a really lucky man," Lino summed up.