May 27, 2021
Day in the life of… Category Financial Analyst Carmen Neal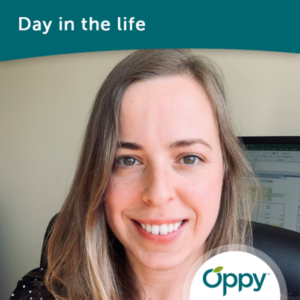 Bouncing from coast to coast and now living in the prairies of Canada, Carmen knew early on in life that she wanted to pursue a career in accounting. She began her career at Oppy in 2007 while completing her bachelor's in business administration at Langara College, then went on to receive her chartered accountant designation. Working at Oppy's Vancouver, BC office for over 10 years, she relocated to Ontario when her husband took a job opportunity there, and she found work close to the produce sector. "While great experiences, they made me really appreciate Oppy even more than I already did," Carmen said.
When Carmen and her husband transferred to Calgary, Alberta at the end of 2020, she reached out to Oppy to see if there was a place for her to come back — and she was grateful there was. A typical day for Carmen is never the same, "which I love," she shared. You can usually find Carmen with her nose in Excel, coordinating between Oppy's partners and the accounting and category teams to monitor financial risk, season progression, trending and analysis.
Carmen is especially excited to be a part of Oppy's table top strawberries venture with New Wave Berries (learn more here), which she externally reports for. She looks forward to sharing her financial analyzing knowledge to make a difference in the accounting processes on a new project being built from the ground up.
At home with Carmen is her husband, three-year-old daughter and two recently adopted kittens — Hamilton and Angelica. Under normal circumstances, this family loves to travel, even venturing to Greece when their daughter was just a few months old. With her family in BC and her husband's in Scotland, they hope to visit there first when they can. But until then, they are enjoying living in their new city, getting out to the mountains as much as possible.
"Everyone is so passionate and works hard at what they do. I am proud to be a part of it. I also appreciate the ever-changing dynamic of the business and the constant growth Oppy strives for and achieves. It keeps me on my toes and I am always learning something new," she wrapped up.