March 2, 2021
Day in the life of… Key Account and Brand Manager TJ Wilson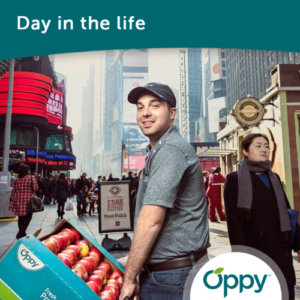 Born and raised in Pittsburgh, Pennsylvania, TJ now calls Philadelphia, the land of hoagies and cheesesteaks, home. He attended St. Joseph's University and graduated with a bachelor's degree in food marketing. Beginning his career in the produce business the way many do, TJ worked at a grocer as a manager where he was responsible for all service departments. He then became a marketing associate for a private label juice manufacturer where he was coincidentally responsible for benchmarking Ocean Spray's beverage business, a brand TJ works closely with at Oppy today. He then took a business development role at a prepared fresh foods company where he managed product launches with many retailers he's continued relationships with in his current career.
TJ joined Oppy in 2015 as business development representative and late last year he transitioned to key account and brand manager. In a typical day TJ focuses on identifying new opportunities and growing the business with key accounts through promotional strategies. He also pinpoints tactics to further grow the Ocean Spray fresh produce brand in North America. Like many people at Oppy proclaim, TJ echoes, "I can honestly say that no two days are the same.
"I can think of nowhere else that grants you the opportunity to meet people from all over the world and truly see how a simple shift in one part of it can ripple and have impacts globally. It has fueled my fire for experiencing new places, ideologies, cultures and more." TJ appreciates that Oppy is open to creating new opportunities for their people and are encouraged to dive into areas of the business that they are truly passionate about, making it exciting to come to work each day. TJ continues to seek out learning experiences since graduating from the Center for Growing Talent (CGT) by PMA Emerging Leaders Program in 2018 and currently sits on its Young Professionals task force.
For fun, TJ enjoys playing dodgeball, softball, kickball and loves any water-related activities, many of which he first enjoyed at his family's lake house growing up. When it's safe to do so TJ can't wait to travel again, saying his first stop will be somewhere sunny by a pool.
Looking forward, TJ hopes to "continue to build a best in class skill set through the diverse and deep knowledge pool we have here at Oppy."