September 7, 2022
Day in the life of… Senior Sales Representative Myles Coueffin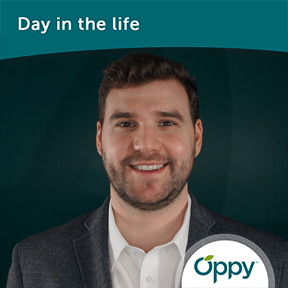 Born, raised and currently residing in BC's Lower Mainland, Myles studied business administration at Simon Fraser University. He started working for Oppy right after graduating six years ago, where his passion for the produce industry began. He was hired as a contractor in the Vancouver sales department and eventually earned a full-time position as a sales representative. Myles was promoted to his current role of senior sales representative in 2021.
During his time at Oppy, Myles has participated in the CPMA Passion for Produce program and helped introduce new items into the Canadian market — including Japanese-grown sweet potatoes from Japan Fruit, a partner of Oppy for over 130 years. "We started with pallets of sweet potatoes brought in by air, now, we are bringing full ocean containers each winter for Canadian consumers. These sweet potatoes will forever have a place in my heart, and my stomach!" he laughed. Myles loves a challenge and enjoys coming up with solutions for customers and growers.
Myles enjoys spending time with his family — wife Rachel, newborn son Theodore and dog Ellie. For fun, he likes to play hockey, run along the river and hike the local mountains.
Looking forward, Myles is excited to be a part of the future of Oppy, "This is an exciting time with lots of opportunity and I am looking forward to contributing to the execution and success of our organization."