December 20, 2016
Vancouver office fundraises for BC Women's Hospital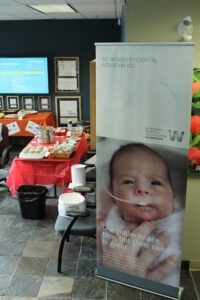 Throughout each year Oppy commits to raising funds for the BC Women's Hospital Neonatal Intensive Care Unit. With events and initiatives along the way, the Vancouver office looks most forward to charity week each November.
The week started off with a delicious breakfast from the Hunger Management food truck compliments of Oppy. Followed by events such as power bingo, putting challenge, paper airplane content, spin the wheel and more. Ending the week with 50/50 draw, door prizes and raffle prizes.
Raising over $17,000 this year, Oppy is honored support the BC Women's Hospital and the noble work that they do.