November 3, 2022
A holiday tradition: Japanese mandarin oranges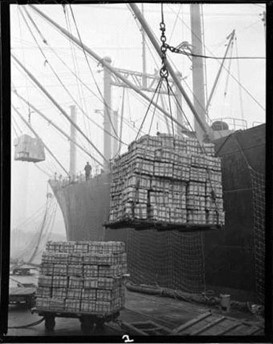 Through its long-standing partnership, Oppy and the Japan Fruit Growers Cooperative have brought Japanese mandarin oranges into Canada for nearly 140 years.  
The tradition of sharing these oranges dates back to the first Japanese immigrants who came to Canada in the late 1800s. It was customary for them to receive packages from their families in Japan to celebrate the New Year. They shared them with neighbors and friends, and thus a new Canadian tradition was born. 
The Oppenheimer brothers, founders of Oppy, loved the oranges and believed in their special appeal during the holidays, paving the way for widespread availability for all to enjoy. Their efforts in 1891 made these festive treats the original mandarin oranges imported into Canada. Since they were only available in December, these seasonal treats were commonly included in the toe of Christmas stockings nationwide.  
At that time, oranges arrived in Vancouver, British Columbia and were transported by truck and train throughout the province and across Canada. Each piece of fruit was wrapped in green tissue for the holidays inside a wooden box — over time these were replaced by cardboard containers, though many people remember the well-constructed and functional wooden crates almost as fondly as the oranges themselves.  
During Word War II the long-standing ties with Japanese exporters came to a halt for a number of years, but when trade resumed, Oppy reestablished its relationship and once again began importing this special piece of fruit that had been very missed. In the days before refrigerated trains, Oppy commissioned its boxcars to be painted orange. Mandarins were packed straight from the ships onto trains to Eastern Canada, where residents knew the holiday oranges had arrived by the sight of brightly colored railcars.  
In 1977, the Canadian Pacific Railway created a special boxcar: Mandarin Orange Express. It led the train that was transporting mandarin oranges for the holiday season across Canada. This boxcar, which was placed right behind the engine, was used to advertise the largest shipment ever handled by CP Rail.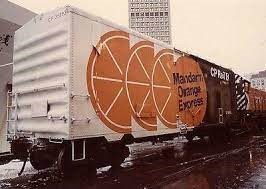 Japanese growers continue to whole-heartedly believe in this lasting tradition, making these mandarins an exquisite gift during the holiday season.  
Sources: 
Japanese mandarin oranges put us in touch with history. (bcfoodhistory.ca)  
Here's why Canadians eat mandarin oranges during the holiday season – Vancouver Is Awesome