December 27, 2018
Day in the life… of Food Safety Coordinator, Carola Molina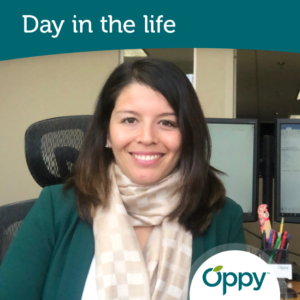 Originally from Chile and now living in Newark, Delaware, Carola received a bachelor's degree in science with a major in agricultural engineering at the University of La Serena in Chile before moving to the U.S. When she was hired at another company within Manfredi Cold Storage, where Oppy has a repacking and distribution center, she would often see the friendly faces of Oppy's QC team in the building. When a position opened up, she knew she had to apply.
Working at Oppy for seven years this January, Carola was recently promoted to food safety coordinator. She said, "Every day is different with most of them being challenging. I am learning so much and am thankful for that."
In her down time Carola loves to travel with her husband—they go to Chile about once a year to see her family and recently visited his family in Turkey. She also likes yoga, being with friends and reading books.
"Oppy is a solid company made up of great professionals and people. I am proud to be a part of it," she wrapped up.