November 30, 2022
Oppy partners with Ski Cross Junior Canadian National Champion and nutrition advocate Emeline Bennett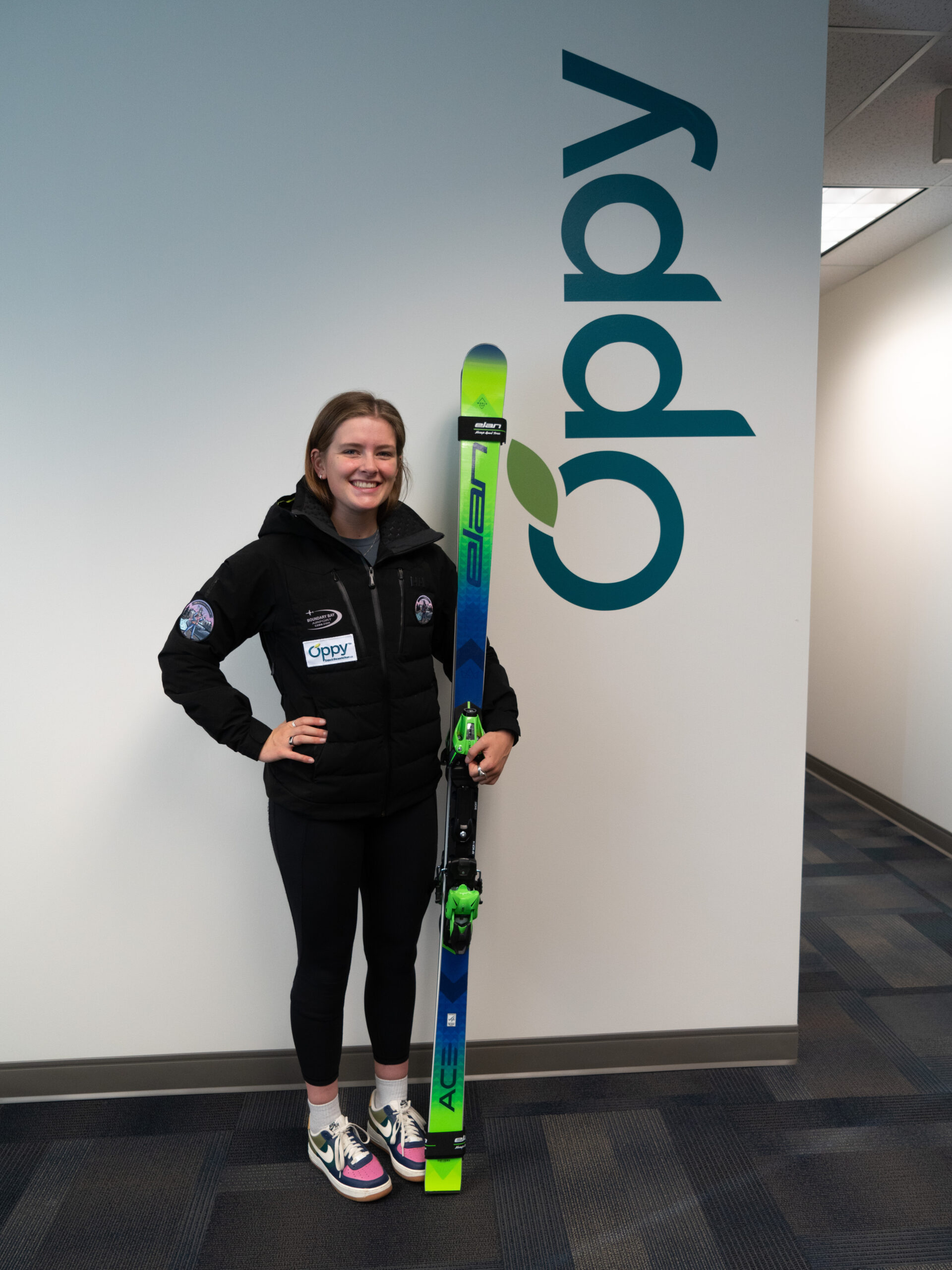 We all know how the right fuel for our bodies affects our everyday function, and how produce is at the center of that. But no one knows it better than professional athletes who depend on nutrition to progress their performance, and in turn, their craft. That's why we're partnering with Emeline Bennett, a Ski Cross Junior Canadian National Champion and nutrition advocate this season to share her story and how she's using fruits and vegetables to power her career.
Get to know Emeline and her story below…
My name is Emeline Bennett, and I was fortunate enough to join the Oppy team the 2022/2023 season as an athlete representative! With the generosity of partners like Oppy, I'm able to build on my learning and success from last season and pursue this season's opportunities to the fullest.
A bit about me… I grew up skiing on Whistler Mountain in their kid's club and Mountain Adventure Program. I began to love the sport more and more, and at age 11, decided to move to Alpine Racing with the Whistler Mountain Ski Club. I met some of my best friends there and raced with them until I graduated high school in 2021. At that time, while I was accepted into my dream program at the University of British Columbia, I didn't feel like I was ready to give up ski racing for academics just yet. I decided to pursue a new challenge in racing with a move to Ski Cross. This landed me on the Evolve Ski Cross team for my first Ski Cross season in 2021/2022. My parents, coaches and I decided that with the support I had to pursue this, I would give everything I had for one year, take as many opportunities as I could and see where I ended up.  
As it turns out — I love it! There is so much learning to do but my alpine experience gave me the perfect foundation to grow from. I had a huge season that started early in Saas-Fee, Switzerland and returned to Canada for our Nor-Am race series. After that I was fortunate enough to be selected to return to Europe to follow the Europa Cup circuit. I got to spend two months racing my way through Europe with my team — skiing new tracks, gaining valuable experience, exploring as much as we could on our days off, and embracing the next level of competition. I had 13 race starts across five countries that ended in Switzerland for the 2022 World Juniors Race. Being named to the Canadian World Junior Ski Cross team and representing my country was a season highlight.
After returning to Canada, we competed in our final Nor-Am race and Canadian National Championships at Nakiska Ski Resort. I am happy to have closed out the season as the Junior National SX Champion and to be awarded second place overall in the NorAm SX standings.
As far as first SX seasons go, it exceeded all my expectations. The skills I carried over from alpine ski racing provided me with an amazing understanding of the fundamentals and I am excited to continue building on them.
Through the summer I was a mountain bike coach and supervisor for a North Vancouver Company — a summer highlight was leading the all-girls summer program we offer. When I wasn't at work, I spent my time in the gym getting healthy and strong for this season.
The biggest part of being able to balance a full day of work, riding and time in the gym is nutrition. I have personally experienced the way your body and performance suffers when you aren't getting the balanced meals you need. I love cooking, so meal prep became a big part of my day. Making sure I was eating enough and had fresh foods to keep up my fiber, nutrition and amino intake was very important. Being able to represent a company that has such a passion for delivering quality ingredients to as many people as possible is something I am very proud of. I want to help more people find their own ways of incorporating fresh foods into every meal and show them that healthy cooking isn't something to be intimidated by.
Stay tuned for more from Emeline, along with some exciting recipes to fuel yourself — no matter your sport of choice.