June 7, 2022
Day in the life of… Business Development Representative Susanne Bertolas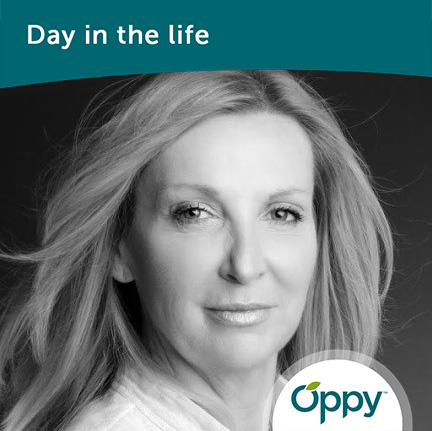 Born, raised and currently residing in the Toronto, Ontario, Susanne is a jack-of-all-trades with a degree in fashion merchandising and design, certified in yoga instructing and is currently enrolled to become a certified dog handler. Susanne began her career as a fashion buyer in her hometown, eventually moving into a public relations role, where she was introduced to the world of produce through her client, the New Zealand Kiwifruit Marketing Board. Her career path led her to become a strategic planner for a clothing line, though she soon found her way back to produce. She started working for Oppy in 1995 as a brand manager, taking a pause 10 years into her career to raise her two kids. During her time away, Susanne opened a yoga studio and worked for Fruits from Chile for five years before coming back to Oppy as Canada's business development representative in 2019.
In a typical day, Susanne reaches out to her customers to let them know what is hot at Oppy, and provides the Canadian sales representatives with information to help drive the business. She also plans the months ahead, Susanne explained, "My creative thinking cap is on throughout the day as I watch for trends in the industry, outside the industry, and what each customer is doing to tailor my approach for each account, ensuring I meet their expectations."
Her favorite contribution to Oppy is being a part of the team that is bringing UP Vertical Farms to market. "It stands for all that I believe in to make our world a better place and being able to support our customers, who in turn, will promote this item to Canadians. That's a feeling of purpose for me," she said. Susanne is also a part of the Microsoft Teams working group, "It's a fascinating world we live in with COVID-19 forcing the hand of virtual meetings. I am excited to be on a team that is shaping the future of virtual collaboration at Oppy, with our customers and partners."
Susanne believes that, "Working for a company like Oppy that promotes plant-based eating is purposeful — I want to be the change that I want to see in the world. What better place than Oppy to help make that dream a reality!"
For fun, Susanne enjoys practicing yoga and mindfulness every day. She also likes hiking with her dog and teaching her cockatiel new tricks. Susanne is an avid volunteer as an ESL teacher to immigrant women who come to Canada, and volunteering with Stray to Play Dog Rescue. "When I am not volunteering, I love spending leisurely Sundays at our cottage kayaking the day away." Susanne is always looking forward to her next adventure, "I have volunteered with Elephants in Thailand, climbed Mt. Kilimanjaro in Africa, hiked Salkantay and Machu Picchu in Peru, and navigated Class IV rapids on a white-water rafting course down the Pacuare River in Costa Rica."
Susanne looks forward to Oppy continuing to be a leader in all facets from packaging, new and exciting products, and continuing to educate consumers on the importance of healthy eating.