February 18, 2020
Day in the life of…Business Development Representative David Reyes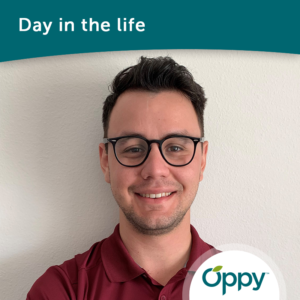 Born in Honduras, but leaving after his first few birthdays, David is a self-proclaimed "military brat" who spent most of his life hopping between countries in Central and South America, including Guatemala, Panama, Paraguay, Ecuador and Brazil to name a few.
After getting a bachelor's from the University of New Orleans in international studies with a concentration in diplomacy and international organizations, David worked at the U.S. Embassy in Brazil prior to working with the Brazil Texas Chamber of Commerce. Before joining the team, he held a sales and business development position in a translation company with accounts in the oil and gas, tech and medical industries.
Since joining Oppy over two years ago, David relishes the fact that no two days are ever alike. He spends most of his time on the road meeting with customers to secure new programs, setting up promotions or discussing plans for an upcoming season, as well as attending food shows. David strives to constantly communicate with customers to ensure that they're up to date on all Oppy has to offer.
Joining the Champions of Change last year was a memorable experience for David, as it provided an opportunity to work with other team members across departments and offices, and emphasized the importance that Oppy places on culture.
David enjoys the many hats that he wears at Oppy including leading the CRM implementation within the sales and category teams, health and safety rep, Champion of Change rep and community outreach coordinator for the Houston office.
A polyglot who speaks Spanish, English, Portuguese and is currently studying French, David met his wife of one year in Brazil in 2012 and enjoys indulging in a movie together almost every weekend.
David admires the wealth of experience of Oppy's many industry veterans and hopes to one day leave his mark on the industry as they once did. "I believe the work we do is wholesome. I pride myself in working for a company that works hard to help our growers and to bring fresh and healthy food to families," David said.