January 16, 2019
Day in the life… of Regional Quality Control Manager, Hugo Alvarez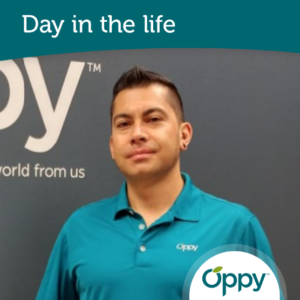 Growing produce and raising animals on his family farm close to Santiago, Chile, Hugo said it was very easy to pick his career. After pursuing a Bachelor of Science in agricultural engineering, he spent time on cattle farms assisting veterinarians and went on to sell organic fertilizers. In 2005 he took his first step into a produce career, working as a farm manager and later moving to the U.S. for a quality control opportunity in Pennsylvania. He was hired at Oppy's Carson, California office in 2014 as quality controller and two years later moved to the Vancouver, Canada office.
As regional quality manager, Hugo supports the quality control team in Western Canada by ensuring inspections, reporting and procedures are followed accordingly. With a grower background himself, he finds that grower relations come naturally to him and most enjoys providing guidance and creating practices for field and packing processes.
In his down time, Hugo is always up to something whether it's brewing his own beer, making fresh cheeses or taking part in a variety of activities and sports from hiking, riding motorcycles, martial arts, soccer, snowboarding, snorkeling and more! He is always up for a challenge and trying something new. Hugo lives with his wife Karen, who also works at Oppy, along with their dog and a few ferrets.
"I am proud to work for Oppy because it is a solid company. As the business continues to grow I look forward to new projects and exploring different areas of my career," Hugo wrapped up.