February 3, 2023
Day in the life of… Packaging and Design Specialist Joan Wu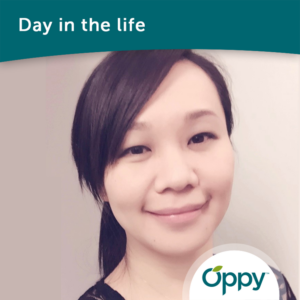 Born and raised in Shanghai, China, Joan currently resides in BC's Lower Mainland. Graduating with a bachelor's degree in interactive arts and technology, Joan worked in the packaging industry for 14 years in both structural and graphic design. "Packaging has always been my passion," she shared.
"It's difficult to know where to start in describing my day-to-day as I currently wear three hats in my role," Joan pondered. The first aspect of her job is design — this includes packaging design, proof approval, file distribution and mock-ups. Secondly, packaging — which consists of packaging innovation and sustainability, UPC management, packaging regulation, new product support, and day-to-day questions. And last is private label management. One of Joan's favorite Oppy projects was assisting the UPC management system within Optimo, Oppy's proprietary system that supports virtually every aspect of operations. "We organized the data, harmonized terminology between departments, implemented rules and confirmed it was all in working order. It was a big job, but it's been a total gamechanger for many departments," she shared. Joan credits the teamwork by all Oppy employees involved, especially those in supply chain, inventory and manufacturing.
Joan believes that it's the people that sets Oppy apart, "Each and every person is passionate about making a difference. What we do today will make an impact on ourselves, our community and the world." She is a part of the Canadian Produce Marketing Association's (CPMA) Technology Advisory Group (CASPP) that works on sustainable food and produce packaging roadmaps in the industry.
For fun, Joan enjoys travelling with her husband and five-year-old daughter. They look forward to visiting Asia this year to visit family.
Going into the future, Joan hopes to continue to grow and develop in her role at Oppy and be a part of bringing more Oppy items to the marketplace.