July 16, 2021
Rising star Garland Perkins accepts honors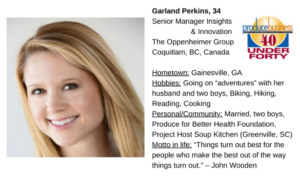 Conducting its extensive, widespread search to elicit nominations for top young leaders, Produce Business had it easy picking Garland Perkins for its 2021 40-Under 40 list. Having paved her own way at Oppy, from intern, to BDR, to foodservice sales lead, then on to the newly created role of retail solutions specialist then again with her current position of senior manager of insights and innovation, Garland has been rising the ranks since she began her career in fresh produce in 2009. So very well-deserved, congratulations Garland!
Get to know Garland better here, including her most notable accomplishment in innovation!
Garland joins Vice President of Categories, Berries and Greenhouse Jason Fung, Senior Vice President of Sales for North America Brett Libke, Executive Director of Marketing Karin Gardner, Senior Sales Representative Kori Martin and Executive Director of Transportation Stewart Lapage among Oppy 40-Under-40 honorees.