November 24, 2022
Oppy reignites at first-ever Global Produce & Floral Show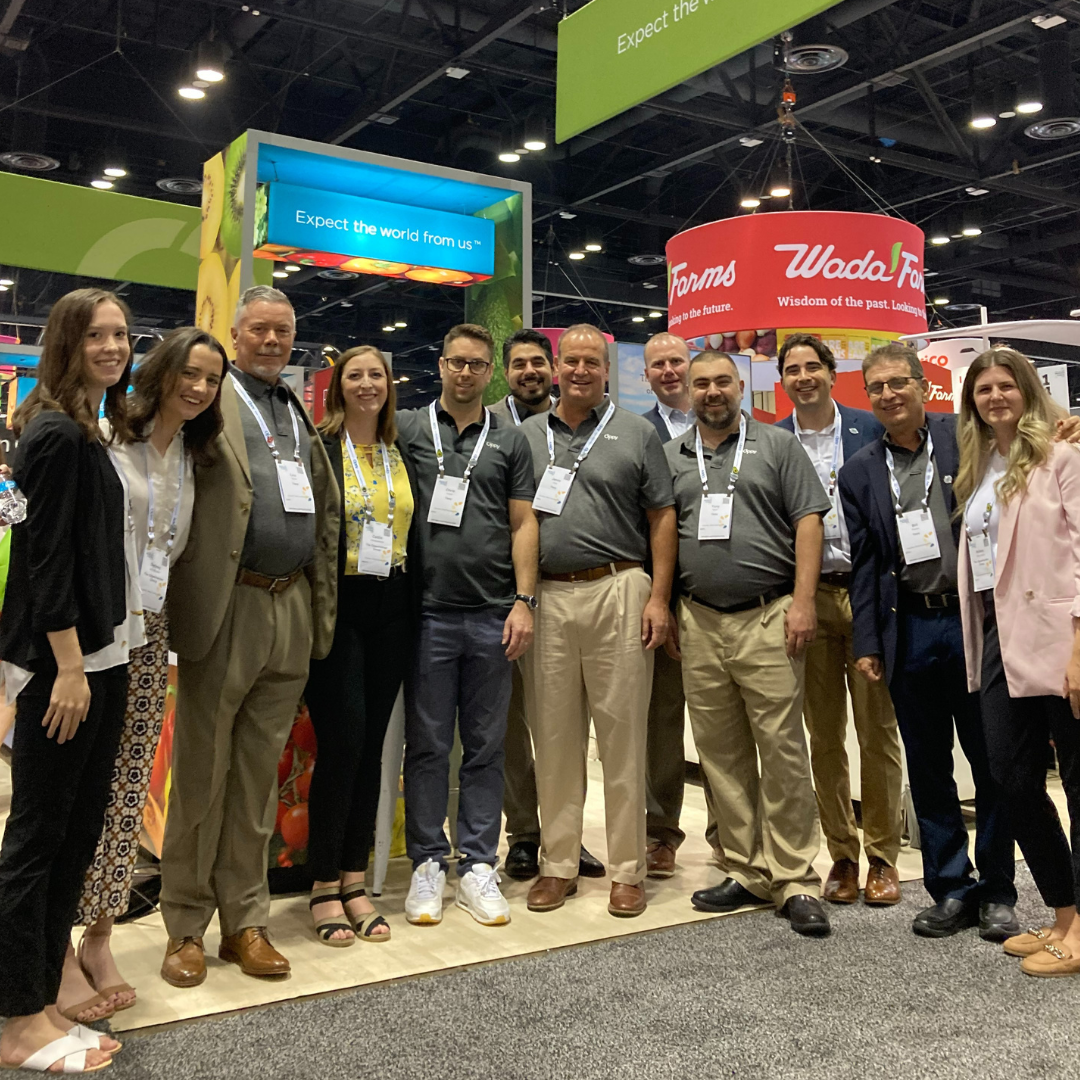 After a two-year hiatus caused by the COVID-19 pandemic, with many transformations, advancements and innovations amidst time gone by, the produce industry reunited for the International Fresh Produce Association's (IFPA) first-ever Global Produce & Floral Show while reigniting business and friendships.
With over 180 grower and retailer meetings, committee discussions, panels, presentations, media interviews and more, the Oppy team had much to deliberate and celebrate while in Orlando, FL.
The week kicked off with a retirement dinner honoring Executive Assistant Karen Becker-Durham, also known as "The Amazing KBD", for 22 years of Oppy service — the night filled with speeches and toasts celebrating Karen, with her husband Gary by her side. Meetings and educational sessions commenced as Vice President of Talent and Culture and Chief People Officer Satri Alpine paneled "Talent and Labor Challenges" while Vice President of Categories and Strategy Jason Fung addressed the Career Pathways Students including Caitlin O'Connor, a Saint Joseph's University food marketing co-op major paired with Karin Gardner as a Career Ambassador.
The first day of the show kicked off in the wee hours of the morning with a record number of Oppy participants running the Race for a Healthier World 5K where, Business Development Representative Sydney Schutkowski led the team and went on to win her age group. At the booth, Senior Marketing Specialist Shea Rogers executed many firsts within Oppy's floorspace which included category-led kiosks, ice cream flavors representing key partnerships, enamel pin flair and over 30 new panel prints.
The booth buzzed with meetings and media interviews as journalists came to discuss Oppy's growing greenhouse category with Executive Director of Greenhouse and Canadian Category Development Aaron Quon and Category Director of Greenhouse Kevin Batt organized by Marketing Communications Manager Kelsey Van Lissum. Reporters were also updated by Co-Founders Bahram and Shahram Rashti on their UP Vertical Farms facility that will debut in the new year, as well as the latest Envy apple happenings from T&G's Head of Marketing Cecilia Flores Paez.
Oppy hosted its annual Aftershow Reunion that evening at the ICEBAR, sponsored this year by Envy apples — featuring an avocado toast bar and signature cocktail, complete with an ice sculpture of the Oppy and Envy logos. The trade show floor quieted down on Saturday which made for more impromptu connections, meetings and interviews as most begun travels home that evening and early Sunday, signing off of an excellent expo.
Another new aspect to the show was Oppy's "Grow your tomorrow at IFPA" program. Oppy people who have never attended an industry convention were invited to share why their attendance would benefit their careers at the chance to attend IFPA with an all-access pass. A committee reviewed the applications and chose Quality Control Supervisor Mariela Sandoval as Oppy's first-ever participant. "It was an exceptional experience," she shared, "Everything about the show itself was huge, it was so great to see the different items offered and new happenings in the industry. I really enjoyed meeting with our growers, getting the chance to have insightful conversations with them about other markets and current challenges, as well as being able to impart my own expertise to their QC questions. I want to thank John Anderson for the opportunity to participate and to everyone who was so open and welcoming to me during the convention."
On behalf of all IFPA participants, thank you to Chairman, CEO and Managing Partner John Anderson and the executive team for supporting this group to strengthen our connections in the industry at this incredible event — and a pat on the back to all for representing team Oppy so graciously.