May 16, 2018
Orchard View partnership sets up quality season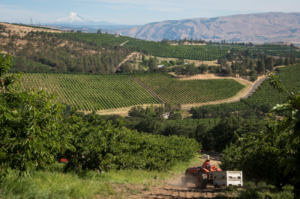 A union made at the beginning of the year between Orchard View and Omeg Family Orchards is about to see the first fruits of its labor which means more high quality cherries from The Dalles' best multi-generation growers.
The respective farms have been neighbors and friends since Orchard View's start in 1923. Owner of Omeg Family Orchards, Mike Omeg and Orchard View President, Brenda Thomas have watched each other grow up to their current positions in their family lineage and company leadership—deciding now was the right time to work together and build on their position in the marketplace.
"Mike Omeg is an exceptional grower," says David Nelley, vice president of categories for apples, pears, cherries and global exports at Oppy, Orchard View's exclusive partner for its ninth season. "He was named the 2017 Good Fruit Grower of the Year, a designation also awarded to the Baileys of Orchard View in 2003, we have no doubt these two powerhouses are a great match."
"Now with roughly 3,200 acres of cherries, grown, packed and harvested to Orchard View's superior standards," Nelley continued. "Taking on new acreage in this particular season will result in the best cherries we've seen yet."
While this year's had poor pollination weather resulted in just two to three flowers per spur and therefore 15 percent less volume, the Northwest expects to yield bigger and better cherries. "We'll see a manageable volume compared to the cherry fatigue the industry experienced last year," says Jon Bailey, Oppy sales manager responsible for Orchard View.
"At an estimate of 1.2-1.3 million cartons, Orchard View could have a 30 percent increase over 2017. We think fewer buds on the trees will mean better tasting cherries which will set us up well for good repeat purchases along with having export quality and sizing earlier in the season."
Ian Chandler, director of field operations, will be directly managing 90 percent of this year's crop while David Ortega, director of packing operations, has expanded the production line. New cluster cutters and bin dumpers add to the front end line of the 48 lane Unitec optical sorting system for consistent size, color and overall cherry enjoyment. Employing the latest technology from beginning to end results in the best quality possible.
Timed slightly behind last year, the season will start with a light Chelan crop between June 12-15 and continue with preferred varieties until the beginning of August.
Contact us at oppy.com or 1-888-321-OPPY for details about Orchard View today.