March 14, 2017
Oppy to market Brookside Cherries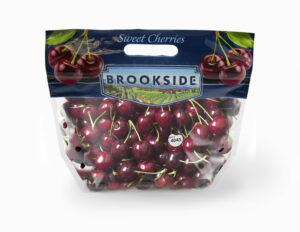 Cherry season gets an early and exciting start at Oppy this year, thanks to an exclusive marketing agreement for North America with renowned California packer Felix Costa & Sons of Lodi.
The new partners begin shipping top quality cherries in Costa's famed Brookside label during the last week in April. Following the Brookside California season, Oppy will transition seamlessly to Orchard View cherries as the harvest begins in June.
"We are really delighted about boosting our cherry program with the Brookside label," said David Nelley, vice president of categories at Oppy. "Fruit grown by Costa is one of the best known cherry lines in Asia, where they have an excellent reputation for quality and flavor. Domestic buyers whose opinion we value have told us they always want more Brookside label cherries."
Brookside cherries are grown by the third generation of the Costa family, and affiliated California cherry producers who focus on high quality export cherries, according to Greg Costa partner in Felix Costa & Sons.
"Once we discovered that we were shipping a high percentage of our cherries to the same overseas customers as Oppy's partner Orchard View, it made sense to consider working together," Costa said.
The keen focus on superb cherries requires a diligent effort year-round. Costa, who also chairs the California Cherry Board research committee, racks up a thousand miles per week during the growing season visiting associated orchards throughout California's cherry-growing districts, assuring that the fruit bound for his label meets Brookside's discerning standards.
"We spend a great deal of time in the orchards, focusing our efforts on a bigger, firmer, sweeter cherry," Costa said. "Careful orchard management is essential throughout the entire year."
And once the harvest begins, Costa credits the Unitec optical sorter, which was installed in its Lodi packhouse four years ago, for putting the final polish on the Brookside cherry pack.
"We've always had great quality, but the sorter establishes a base that makes us more consistent, and makes it easier to be consistent," he said.
The California cherry season will begin about a week later than last year due to cooler weather and later boom. Oppy and Costa will commence with the Brooks variety in late April, followed by Tulare, Coral Champagne, Garnet and Bing—which represent the largest percentage of the Brookside label.
Oppy plans powerful spring cherry promotions and interactive social media outreach—featuring contests and more—that will give Brookside increased exposure in the North American market.