December 6, 2016
Oppy and Hasegawa family joint venture yields powerful strawberry partnership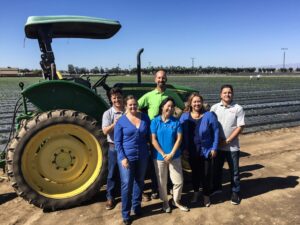 A historic partnership between The Oppenheimer Group and the Hasegawa family of Camarillo, Calif. ushers in a new era for the leading fresh produce marketer and distributor and the third-generation grower—and provides the trade with a fresh new year round strawberry option.
"The joint venture creates a whole new level of integration both for Oppy and the Hasegawa family," said Chad Ianneo, general manager of Rincon Fresh, the Hasegawa family's berry label.
"It's a new business model for the both of us," he explained. "We're evolving together in a very positive way, each gaining from the strengths of the other, to the ultimate benefit of our customers—and consumers everywhere who enjoy great tasting strawberries."
Oppy will serve as the partnership's sales and marketing arm, having started shipping strawberries grown by the Hasegawas earlier this month. To assure a smooth transition and continuing success of the program, four expert berry sales people, who formerly marketed the Hasegawas' strawberries as Rincon Fresh, will operate from new Oppy sales offices in Oxnard and Santa Maria.
"Together, we're vertically integrated from the field to the market, resulting in a distinct advantage for our customers," said John Anderson, Oppy's chairman, president and CEO. "This unique connectivity across the growing and marketing processes enables us to deliver berries—and provide service—that consistently exceeds expectations."
Anderson also noted that the partnership complements Oppy's strawberry offerings from Salinas and Mexico. The company's berry portfolio includes import and domestic blueberries, blackberries, strawberries and raspberries, as well as Ocean Spray fresh cranberries.
He also pointed to the quality of the Hasegawas' berry program as another strategic reason for pursuing the joint venture.
"We are impressed by the Hasegawas' commitment to growing the best possible berries," he said. "Together, we'll bring the market a beautiful strawberry that consistently delivers on flavor and quality, with an eye to future innovations in variety, pack styles and more."
The joint venture brings about an evolution of the Hasegawas' business as well.
"We're excited by the strategic synergies we have with Oppy," said Ianneo. "Oppy's technology and logistics expertise, along with a strong presence in the trade, integrate our berries with an established supply chain and proven marketing disciplines."
Now poised to energize the berry category even further, Oppy and the Hasegawas are fine-tuning plans for some high impact berry marketing and branding initiatives in early 2017.