November 16, 2021
Doug Grant recognized with prestigious PMA award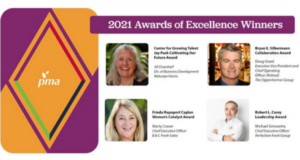 Though he retired this past summer, former Executive VP and COO Doug Grant is still making waves in the industry following his 26-year legacy at Oppy. At a virtual town hall last month, PMA and Center for Growing Talent honored the winners of their suite of awards, recognizing excellence across the trade — with Doug receiving the Bryan E. Silbermann Collaboration award.
Learn more in this excerpt from Produce Blue Book:
This award recognizes and celebrates an outstanding PMA member who has addressed an industry issue or challenges in his or her work to advance the produce and floral industries. This year's award was announced by last year's winner, Bonnie Fernandez-Fenaroli, the executive director of Center for Produce Safety.
"This year's award winner, Doug Grant, epitomizes the stick-to-itiveness needed to achieve collaboration in an industry as diverse as ours," said Fernandez-Fenaroli. Fernandez-Fenaroli described the extensive partnership and leadership Grant has shown especially in the work of the Center for Produce Safety's work to raise the bar on fresh produce food safety across the supply chain. "There are leadership styles, and Doug is calm in the storm, intelligent and mindful. There are also leaders with style and that too, fits Doug."
Grant accepted the award with thanks to his family and his colleagues at Oppy who supported his volunteer leadership work for the industry especially as he enters his retirement. "I view this collaboration award as the capstone on my career in fresh produce," said Grant. "Now that I'm recently retired, I will cherish this award for many years to come. It will remind me of all the excellent people I've worked with on committees and the accomplishments we've all made together."
Congratulations Doug! Thank you for your continuous support of the industry. We miss you.