April 23, 2020
Day in the life of…Sales Representative Adriana Herrera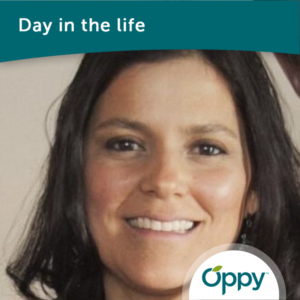 Originally from Queretaro, Mexico, Adriana has been living in Canada for the last 14 years, east of Okotoks near Calgary, Alberta. An agronomist engineer with a bachelor's in plant science, she graduated from the Monterrey Institute of Technology and Higher Education and also holds a Certificate of Specialization in Organic Agriculture from Dalhousie University.
Prior to joining Oppy, Adriana worked with a multinational fertilizer company in Mexico as well as an environmental engineering firm in Calgary. Her first tenure with Oppy began in 2012 as an operations and quality assurance coordinator and lasted for four years, after which she transitioned to a sales associate position for a year.
Adriana next took a break from Oppy to focus on spending time with her two children and husband, in addition to fulfilling one of her deepest passions; to grow and sell her own vegetables at a local farmer's market and directly to families through weekly vegetable shares. It was through this experience that she realized the true importance of her role in developing markets at a bigger scale, leading her back to Oppy once more.
"I knocked on Oppy's door again and they opened their arms warmly and welcomed me back as if I had never left," Adriana said.
Since 2018, she has taken on the role of sales representative at the Calgary office with vigor, handling bigger accounts and focusing on growing the business with small to medium-size companies across the prairies.
Whether working from home or the office, a regular day for her includes checking in with customers and making sure their needs are always met, issuing pricing, covering accounts with any fruit purchase (FRUP) needs, replenishing inventory for program business and other duties. What really draws her to the position, however, are the plentiful relationship building opportunities that come with engaging customers on a regular basis.
Together with her husband and soulmate Bevin who hails from Saskatchewan, Adriana is a proud parent to her 10-year-old son Matias and her six-year-old daughter Camila, both of whom enjoy playing hockey in the winter and baseball or soccer in the summer. As a proud and passionate hockey mom, Adriana considers it an underappreciated advantage to be able to swear in Spanish with no one in earshot any wiser (this may or may not also apply to work from time to time, she adds). Adriana's family also likes to travel to Mexico as much as possible to visit her family.
For Adriana, she loves how Oppy is committing resources to innovation and sustainability initiatives: "I'm proud to work for a company that is mindful of environmental impacts and is working on ideas to reduce plastic usage," she said.