March 21, 2018
Day in the life… of Senior Grower Accountant, Kim Bowman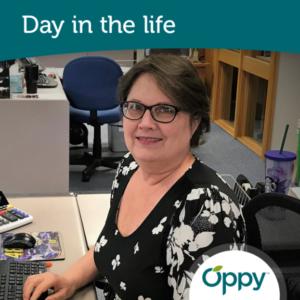 Kim made her way to the West Coast over the years eventually landing in our Visalia, Calif. office in September 2014. Born and raised in Ohio, Kim attended Edison Community College and the University of Pheonix to study business accounting. She worked as an accounts payable manager and IT supervisor in two hospitals before moving to the warmer climate of California's central valley in 1993.
Once on the West Coast, Kim worked as a commercial loan assistant and then as director of accounts payable for a transportation brokerage firm that mostly brokered for produce companies, this is what lead Kim to her current role at Oppy.
Constantly evolving to grow new ideas and processes, Kim enjoys the challenges each new day brings. Being deal admin manager/coordinator for multiple deals she acknowledges that there is never a dull moment.
Kim has been married for over 23 years with five children, three grandchildren and a multitude of furry children too. They enjoy going to the beach but mainly spending time as a family, "it's the most prized time we have," she says.
Looking forward to the challenges ahead, Kim aims to continue learning and growing in new areas within the company.